Refer a friend to John Bray Cornish Holidays, and if their property goes live on our website by 01/10/2021, we will pay you and your friend a £500 reward each!
We understand that sometimes you have the opportunity to recommend John Bray Cornish Holidays award-winning holiday let services and unrivalled booking levels to holiday home owners, and we really appreciate it.
---
How to claim your reward in 3 easy steps:
To claim your £500 'thank you', all you need to do is let us know who you recommended us to, and ask the owner to mention your name when they first speak to the John Bray Cornish Holidays team. We don't need any sensitive information, just their name and the name of their property will do.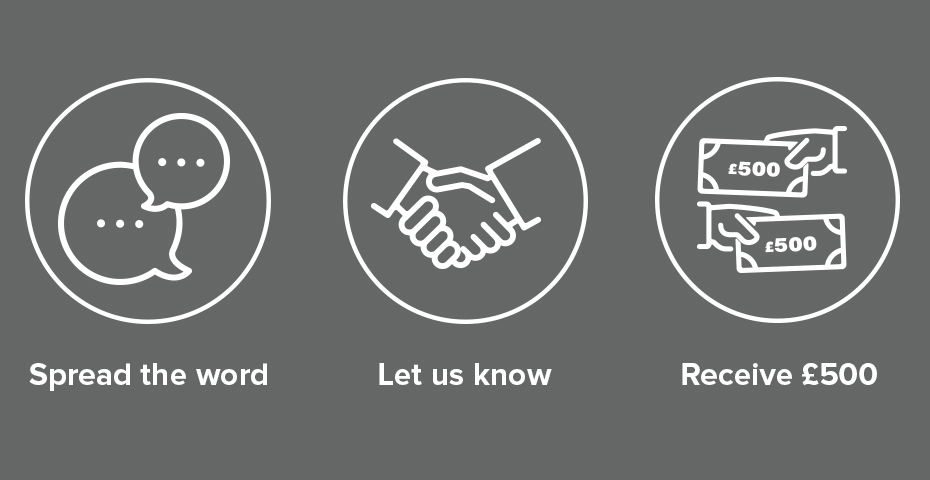 1. Spread the word
If you know someone that is considering holiday letting, let them know about us.
2. Let us know
Simply…
a: E-Mail lettings@johnbray.co.uk or
b: Call us on 01208 228910; or
c: Message us on Facebook, or Instagram
Provide the recommended persons contact details, as well as your own
3. Receive £500 each
When the property goes live for bookings, we will pay you both £500, per property (T&C's apply)
---
Is there a limit to how many owners I can refer?
There is no limit to how many owners you can refer, so the more you recommend us, the more you can earn.
---
Terms and Conditions:
This scheme is promoted by Sykes Cottages Ltd, (Trading as

John Bray Cornish Holidays

), Registration No. 4469189 and whose registered office is at One City Place, Queen's Road, Chester, CH1 3BQ, United Kingdom (The "Promoter").
The offer is currently limited to UK property referrals only.
Referrals will not qualify for the reward where:
a: the recommended property owner is a current

John Bray Cornish Holidays

or Sykes owner; or
b: where they have previously contacted the Promoter about holiday lettings at any point from 1st January 2016; or
c: where the property has previously been listed with the Promoter at any point from 1st January 2016.
There is no limit to how many properties can be referred. The reward will be paid out per property that goes live for bookings on the

John Bray Cornish Holidays

website and where the referral complies with these terms and conditions.
For onboarded suppliers, the reward will be transferred to your nominated bank account no later than 2 months after the property that you have referred goes live for bookings on our website.
If the referral is made by a current

John Bray Cornish Holidays

, owner, the money will be credited to your owner account no later than stated above.
For members of the public that are not onboarded suppliers, the reward will paid in the form of Voucher Express vouchers, to the value of £500.

John Bray Cornish Holidays

cannot accept any responsibility for terms and conditions related to these vouchers.
All referrals must be made prior to the new owner signing the contract with the Promoter. If a referral is made following the new owner signing the contract, any redemptions will be on the basis of a goodwill gesture and at the sole discretion of the Promoter.
No referrals will be accepted where the referring party has a direct relationship with the referred party (spouse, partner or shareholder in the event of the referred party being a corporate entity). The Promoter reserves the right to change the incentive to one of equal or greater value.
The Promoter reserves the right to reject properties that it deems not suitable for our portfolio or holiday letting.
Please only refer property owners that you know personally and who are interested in holiday letting with the Promoter.
The referral scheme and these terms and conditions will be governed by English law and any disputes will be subject to the exclusive jurisdiction of the courts of England and Wales.
By claiming the reward you agree that we may contact you for purposes relating to holiday letting with us including general owner marketing. You may opt out of receiving information or marketing from us at any point.
No responsibility can be accepted for referrals not tracked for whatever reason or which are lost, delayed, corrupted, damaged, misdirected or incomplete or cannot be fulfilled for any technical, delivery or other reason.
In the event of circumstances outside the reasonable control of the Promoter, or otherwise where fraud, abuse, and/or an error (human or computer) affects or could affect the proper operation of this promotion or the awarding of the incentive, and only where circumstances make this unavoidable, the Promoter reserves the right to cancel or amend the promotion or these terms and conditions, at any stage, but will always endeavour to minimise the effect to participants in order to avoid undue disappointment.
Where the same property is referred by two parties, the incentive will be awarded to the first referrer to notify us about the referral.
The Promoter reserves the right to withdraw or extend the offer at any time.
The Promoter reserves the right to verify all referrals, referrers and referred parties and to refuse to award an incentive or withdraw incentive entitlement and/or refuse further participation in the promotion and disqualify the participants where there are reasonable grounds to believe there has been a breach of these terms and conditions or any instructions forming part of this promotions entry requirements or otherwise where a participant has gained unfair advantage in participating in the promotion or won using fraudulent means. The Promoter will be the final arbiter in any decisions and these will be binding and no correspondence will be entered into.
---
To find out more about holiday letting with

John Bray Cornish Holidays

, visit our Let Your Cottage page to receive your Free Owners Guide.